Budia, Guadalajara, Spain
Project context
The photovoltaic solar plant, located in the municipality of Budia, is a 49.97 MWp project that uses 128,128 photovoltaic modules to generate electricity from renewable sources. The main objective of the installation is to sell the photovoltaic electricity generated to the national grid.
The PV modules are neatly arranged in fixed, south-facing structures to make the most of sunlight. The 30 kV power line, buried in a trench, connects the transformer centres of the plant until it reaches a sectioning centre, where the energy generated by the plant is received. From there, an underground line evacuates the energy to Las Represas substation.
Las Represas substation has two transformers of 210 MVA and 170 MVA, which raise the voltage of the energy generated for transmission. From the substation, the energy is transmitted through a 5,401.5 metres long, 220 kV overhead line to reach the El Peral substation.
Soltec Ingenieros services
Soltec Ingenieros has carried out the engineering project for the execution of the photovoltaic plant and all the necessary infrastructures for its connection to the grid.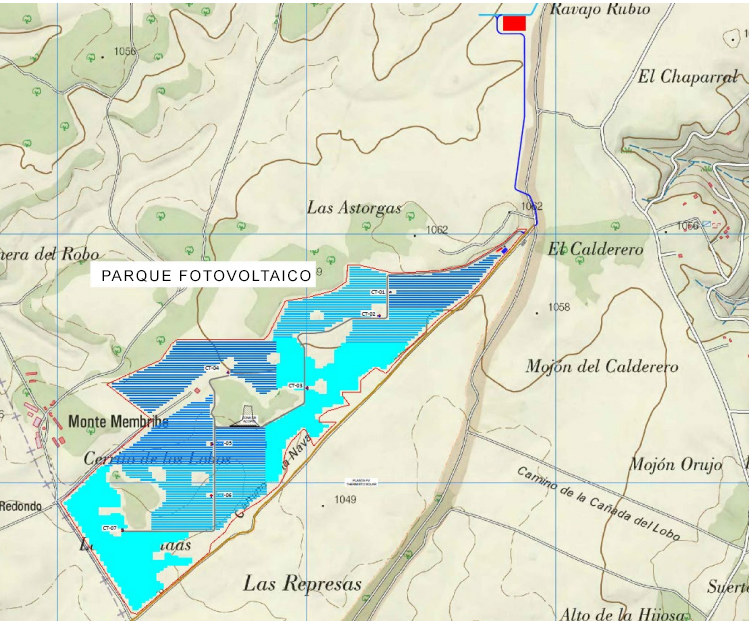 Added value
The installation of this plant avoids the emission of 1,084 tons of CO2 per year, while it promotes the use of renewable energies and the reduction of energy dependence on fossil origin, the diversification of supply sources and the reduction of greenhouse gas emissions.
.