Our commitment to clients is based on the reliability, the capacity of identifying opportunities and the response of our of highly qualified and dedicated team. ​
A team made up of people from different disciplines who share the same passion for their work, who have grown professionally beyond their limits out of pure vocation.​
​
This is how we achieve the excellence that our clients demand. This is our competitive advantage, which has always allowed us to provide innovative and efficient solutions to the challenges brought by the industrial and energy transformation. ​
We want that everyone at Soltec Ingenieros feels respected, valued and included. We make available the resources, flexibility and support to help you reach your full potential, develop your career and feel able to bring your true self into the work you do.

We've created a workplace, physical and remote, where you'll feel comfortable carrying out your work in collaboration with a professional team. A place where your voice is heard, where no idea is otherworldly and where each of us brings value, innovation and excellence to the team.

Within our concept and vision of the ideal team, we've included ESG measures in our business management that support our team's professional development, reconciliation of work and family/life and the promotion of equality and sustainability.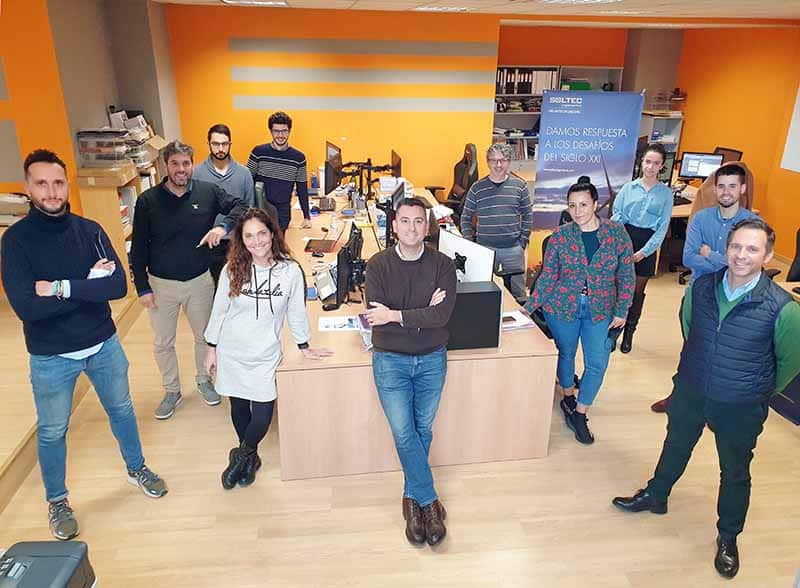 Committed to

sustainability
When we choose our profession, we choose a vocational commitment to developing our communities and caring for our environment. A work of great responsibility that commits us to the 17 SDGs: from the eradication of poverty and the fight against climate change to education, equality for women, the defense of the environment or the design of our cities.
How we relate to the Sustainable Development Goals (SDGs)
Aspirational objectives
As responsible members of the society we live in. The ultimate reason for our work, what we aspire to with our collective effort every day.​
Objectives applied to our projects​
Fundamental drivers of our methodologies and approach to engineering projects. By applying these, we participate in the overall achievement of the aspirational goals.​
We don't just design engineering solutions. We continually study and learn from past, present and future scenarios to help our clients understand and prepare for the digital and energy transition.
Innovation has always been part of the DNA of Soltec Ingenieros. Since our start, we've allocated an average of 10% of the annual budget to new products, patents, services or technological developments. We've established a collaboration with more than 30 universities and 10 international technology centres to date. ​
​
Thanks to the inquisitive and collaborative spirit of our team, we've gained a deep understanding of the Spanish innovation ecosystem. And beyond our borders, we've connected with the most internationally recognised innovation ecosystems (European Union, Israel, USA,…).
In the last two years, we've presented more than 15 R+D+I projects nationally and within the EU, within an integral global value of over 30M€​