Various locations in Spain and Andorra
Project context
Krack Co is a Galician shoe brand created in 1990 in Pontevedra, with currently 50
establishments distributed nationally.
Supporting their current expansion plan, we will have completed the interior reform and
development projects of over ten stores opened in 2022 in several locations in Spain and Andorra.
Soltec Ingenieros services
Design, detailed engineering,

calculations of building services and civil works of their

new stores

Obtaining and processing licenses for their network of stores

Works have included demolition, façade, signage, electrical and air conditioning installation, ventilation, lighting (LED), new vertical divisions, accessibility, carpentry, painting, sanitation, furniture, etc.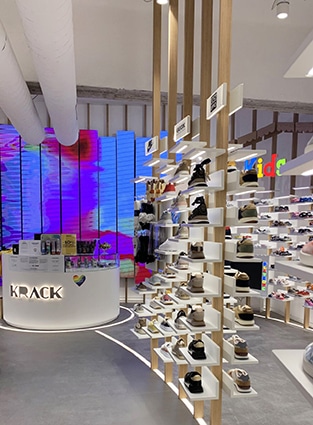 Added Value
We offer a comprehensive management service from the development of the project to the licenses and legalization of every one of the establishments.
We can optimize the project with the implementation of energy efficiency measures, including management to obtain ISO50001 certification.