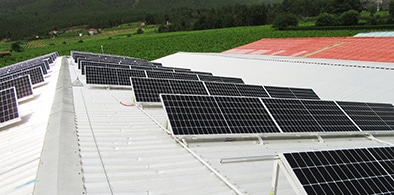 Project context
Socitransa is a Galician bus transport company covering different service lines: international line, personal transport, sports equipment, school transport, excursions and tours, events, etc.
Our Soltec Ingenieros team has completed the installation of 68 solar panels on the roof for Socitransa at its facilities in Verín, with a total power of 30.94 kW.
Soltec Ingenieros services
Our work has included
Management of the INEGA grant to subsidise the photovoltaic installation

Project development

Construction management
Added value
This photovoltaic installation will mean an annual energy saving of 75% for Socitransa.
Installation for self-consumption with the injection of surplus into the network.